Oso Goes on a Visit
Oso loves baths. Well OK so he doesn't love baths, but he does love what comes afterward. I rub his face in a dry towel, then rub him all over. I dry him blowing against the lie of his coat for the maximum fluff. He can hardly wait for what comes next.
We leave his girl friend, Tanith, at home and take a drive. When we arrive at our destination we take off his regular collar and put on something colorful. His standard leather leash is replaced by a colorful fabric one. A visor or neckerchief completes his outfit. Then we go meet the rest of our group. We are going visiting at a care facility.
Oso is here to brighten the day of the residents of this care facility. But before we go in we have a little paperwork to complete. Each visitor certifies that they have not been recently exposed to chicken pox, and that they do not have the flu or the common cold. If we take too long Oso whines and tosses his head toward the door.
Inside Oso sees a group of people. He looks for one who beckons him over; he puts his head in her lap. She pets him and talks to him. She talks to me about the dogs she has had in the past, and about how much she enjoys these visits. Much too soon for her we gently say we must move on. There are many residents and only three dogs.
We go upstairs. Here the people live further in the past, or for the very moment. Often they are frustrated when I cannot understand them. They do not have that problem with Oso at all. Between them is the very basic communication of caring.
What Oso calls "fun" has a boring academic title of animal assisted activities. Neither Oso nor the people he will visit know about the title. They just know that they enjoy seeing each other. His friends are waiting. They look forward to these visits and prepare for them. They talk about it after we have left.
Learn About Oso's Kind of Fun
You can learn a little bit more about visiting dogs, or you can look at some of the other neat things you can do with your dog. Maybe you'd like to read about some of visits. You can also read all about Oso and see some pictures on Oso's Home Page.
DogPlay's Visiting Pet Stuff

Check the other articles on therapy dogs, visiting pets and related topics.
Also see Books and Publications - How to train your dog, how to start a program, and more.
Help finding information of visiting pets and therapy dogs
Lost? PageList lists all the DogPlay pages. Check the Help page.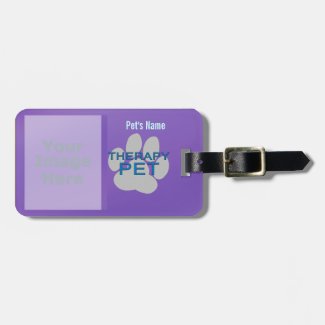 Leash Tag - Therapy Pet Tag For Luggage
by
dogplay
Xylitol risk to your dog
Unexpected electric danger to your dog on the street
Custom therapy shirts, mugs, buttons, stickers and other dog lover gifts: DogPlay Shops
Copyright © 1997-2003, Diane Blackman Created: January 5,1997 Updated November 12, 2012